Studerende og undervisere kan få adgang til at installere Sigma Enterprise, samt visse tilføjelser til programmet.
Students and teachers/professors are offered to install Sigma Enterprise along with add-ons and integrations.
​
DA: Hent og installer Sigma Studie-pakke
Registrering
Du skal registrere dig på ​Sigma Estimates Student Registration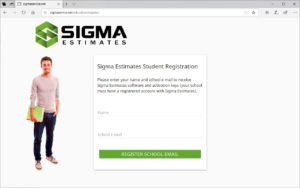 Her indtaster du dit navn og din studie-e-mailadresse, og klikker derefter på REGISTER SCHOOL EMAIL
Bekræftelse
Når du har registreret dig, returnerer Sigma Estimates automatisk en mail ("Confirm registration"), hvor du bekræfter din studie-e-mailadresse ved at klikke på Bekræft registrering.
Links og licensnummer
Efter bekræftelsen modtager du endnu en e-mail ("Thank you for your registration"), som indeholder links til installation af bl.a. Sigma Enterprise, og licensnummer til at aktivere installationen.
OBS! Du kan være uheldig, at første og/eller anden e-mail ender i mappen Uønsket mail / Spam – tilføj @sigmaestimates.com til listen over de afsendere, der er tillid til.
Hvis du gemmer denne anden e-mail, kan du til enhver tid tvangs-opdatere Sigma og/eller add-ons.
EN: Get and install Sigma Educational package
Registration
You need to register at ​Sigma Estimates Student Registration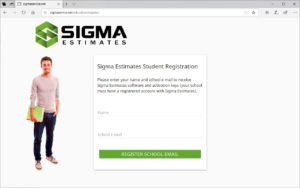 Please enter your name and your student e-mail address, and click REGISTER SCHOOL EMAIL
Confirmation
When you have registered, you will receive a confirmation e-mail from Sigma Estimates asking you to confirm your educational e-mail address – click Confirm registration link in the e-mail.
Links and license number
After confirming your e-mail, you will receive a second e-mail (subject: Thank you for your registration), containing links for installation of Sigma Enterprise and any add-ons together with your personal license number for activation.
In case you do not get the 1st and/or 2nd e-mail, please check your junk folder – add @sigmaestimates.com to Safe Senders List.
Please keep this email for future reference or in case you need to force an update to Sigma.
Sigma Revit Integration – 
Nyheder / News
DA: Specielt for Sigma Revit Integration
Installation af Sigma Revit Integration sker via Sigma Autodesk Integration. Gør følgende:
Klik på linket Sigma Autodesk Integration i e-mailen ("Thank you for your registration"), hent og installer Sigma Autodesk Integration
Start Sigma og vælg fanen Autodesk
Klik på knappen Install Revit Plugins

Sigma Revit Integration er opdateret i 2021:
EN: Specifically for Sigma Revit Integration
Installation of Sigma Revit Integration is done via Sigma Autodesk Integration. Do as follows
Click the Sigma Autodesk Integration link in the e-mail (subject: Thank you for your registration), download and install Sigma Autodesk Integration
Start Sigma and select Autodesk ribbon
Click Install Revit Plugins button

Sigma Revit Integration is updated in 2021:
Licens-fornyelse / License renewal
DA: Licens-fornyelse en gang årligt
EN: License renewal once a year
Exact-databasen / The Exact database
DA: Specielt for Exact-databasen
Hvis din skole også har adgang til Exact-databasen, bliver databasen automatisk aktiveret af din studie-licens.
Når du skal indlæse STARK-prislisten (efter installation af databasen) til brug sammen med databasen, skal du bruge et Login til ByggePartner og Adgangskode til Byggepartner. I begge felter skal du indtaste: demo123
EN: Specifically for the Exact database
If your school has access to the Exact-database, this database is automatically activated through your Sigma license.
When importing STARK pricelist (after installation) to be used together with the database, you need a Login as well as a password for ByggePartner. In both fields enter: demo123
Flyt licens / Move license
DA: Flytning af licens til anden computer
Hvis du ønsker at flytte din Sigma-installation mv. over på en anden computer, kan du skrive til support@sigmaestimates.dk og bede om at få frigivet din licens. Du kan med fordel skrive fra din studie e-mail – eller anføre studie e-mailadressen, når du skriver til Sigmas Support.
Hvis du forsøger at aktivere på en anden computer, og det mislykkes, får du tilsendt en mail, hvor du selv kan frigive din licens. Når licensen er frigivet, kan du aktivere på en anden computer – du skal bruge det samme licensnummer igen.
EN: Moving your license to another computer
In case you need to move your Sigma installation etc. to another computer, please write support@sigmaestimates.dk and ask to have your license released. It helps speed up the process, if you e-mail us using your educational e-mail, or at least type it in the e-mail for Sigma Support.
If you try activating your license on another computer, and it fails, you will probably receive an e-mail, from which you yourself can release your license. When released, you can reuse your personal license number to activate on the new computer.
Opdater installation / Update installation
DA: Opdatering af Sigma
Du kan til enhver tid tvangs-opdatere de installationer, Sigma studiepakken giver adgang til, ved at klikke på installationslinket modtaget pr. mail til den applikation, du ønsker at opdatere, eksempelvis Sigma Enterprise eller Molio.
De links mailen indeholder peger altid på seneste version af den pågældende applikation. Det er altså en god idé at gemme denne e-mail.
EN: Updating Sigma installation
You can at any given time force an update of Sigma and/or add-ons. Find the e-mail containing links and license number (subject: Thank you for your registration) and click the link to Sigma Enterprise or a given add-on.
The links in the e-mail always point to latest version of Sigma Enterprise / said add-on.
Adgang til studie-pakke / Access to educational package
DA: Hvordan får man adgang til Sigma Studie-pakke
Hvis din uddannelsesinstitution har brug for Sigma, men ikke har adgang til Sigma Studie-pakke, kontakt da venligst vores Serviceafdeling:
skriv til sigma_support@eg.dk
eller ring på +45 70 262 575
EN: How to get access to Sigma Educational package
If your school/university college/university needs Sigma, but does not have access to the Sigma Study Package, please contact our Service Department:
at sigma_support@eg.dk
or call +45 70 262 575